Welcome to the Mathematics and Science Education Center:
Science, Technology, Engineering, and Mathematics
HOURS
Monday-Friday
8am-5pm
Employment
All student assistant positions are filled. Please check back in Spring 2018.
Announcement: If your school or science class would like to have a supply of Madagascar hissing cockroaches, please contact Leah McManus at mcmanusld@appstate.edu or call 828/262-3185. We have an over abundant supply and would be happy to share with your school.
*Schedule Change*
William Armstrong will present "How Glaciers Respond to Climate Change" on Thursday, October 5, 2017.
Dan Caton will present "Eco Aspects of Mitigating Light Pollution" on Thursday, November 16.
Northwestern Region 7 Science Fair
This year's regional science fair will be held Tuesday, December 19, 2017 in the Reich College of Education Building. Please visit the Northwestern Region 7 Science Fair website (https://ncsefreg7.stemwizard.com/) for schedule, registration, and additional information. The science fair is sponsored by the non-profit NC Science Fair Foundation (http://www.ncsciencefair.org).
Photos from the December 15, 2015 Science Fair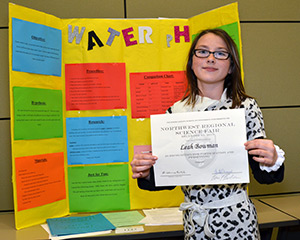 North Carolina Science Festival
Appalachian State University was a major participant in the North Carolina Science Festival that began in 2010 during September 11-26. The Festival was moved to spring to better accommadate schedules and the fifth annual Festival was held April 10-26, 2015. The next Science Festival will be held April 7-23, 2017 and STEAM (Science, Technology, Engineering, Arts, and Mathematics) Expo day will be held in Holmes Convacation Center with associated events in various locations on the ASU campus.
For more information about ASU science activities during the Festival, visit
Newsletters
University Forum
The mission of the University Forum Committee is to bring distinguished speakers to the campus of Appalachian State University for the purpose of enlightening and educating the university community about issues of interest. The goal of an active and engaging speaker series should be to promote the exchange of ideas through the process of civil discourse. Learn more at:
Mathematics Education Leadership Training (MELT) Mathematics Education Leadership Training (MELT)
STEM at Appalachian State University www.stem.appstate.edu
Keep in Touch
If you would like to join the MSEC Google group to be notified of up-coming Seminars and workshops, please send your email address to Leah McManus at mcmanusld@appstate.edu.