The Mathematics and Science Education Center will continue to support faculty and students by providing access to its library of materials and resources. If you are a faculty member and have specific requests for your Fall 2021 course or would like to brainstorm about your current needs with our staff, contact Leah McManus at mcmanusld@appstate.edu for a consultation regarding your needs. Currently faculty or students can request items from the library by emailing Leah McManus at mcmanusld@appstate. Currently, items should be requested no less than 3 business days in advance and will be made available on a cart outside of the Center, located in suite 506 of the Reich College of Education building. Items can be returned to the provided bins outside of the Center for cleaning prior to being returned to the collection for circulation. Please note that there are also STEM kits and other materials available through the Belk Library.
HOURS
Monday-Thursday 8am-5pm
Friday 8am-3pm (to allow for cleaning, organizing, inventorying)
UPCOMING EVENTS

Both the NC Student Academy of Science and the 2022 NC Science & Engineering Fair
will be held virtually January 24-28, 2022.
Registration: December 1, 2021 - January 14, 2022
For more information, please visit:
Professional Development Opportunities
SCIENCE SEMINAR: SMASHING PUMPKINS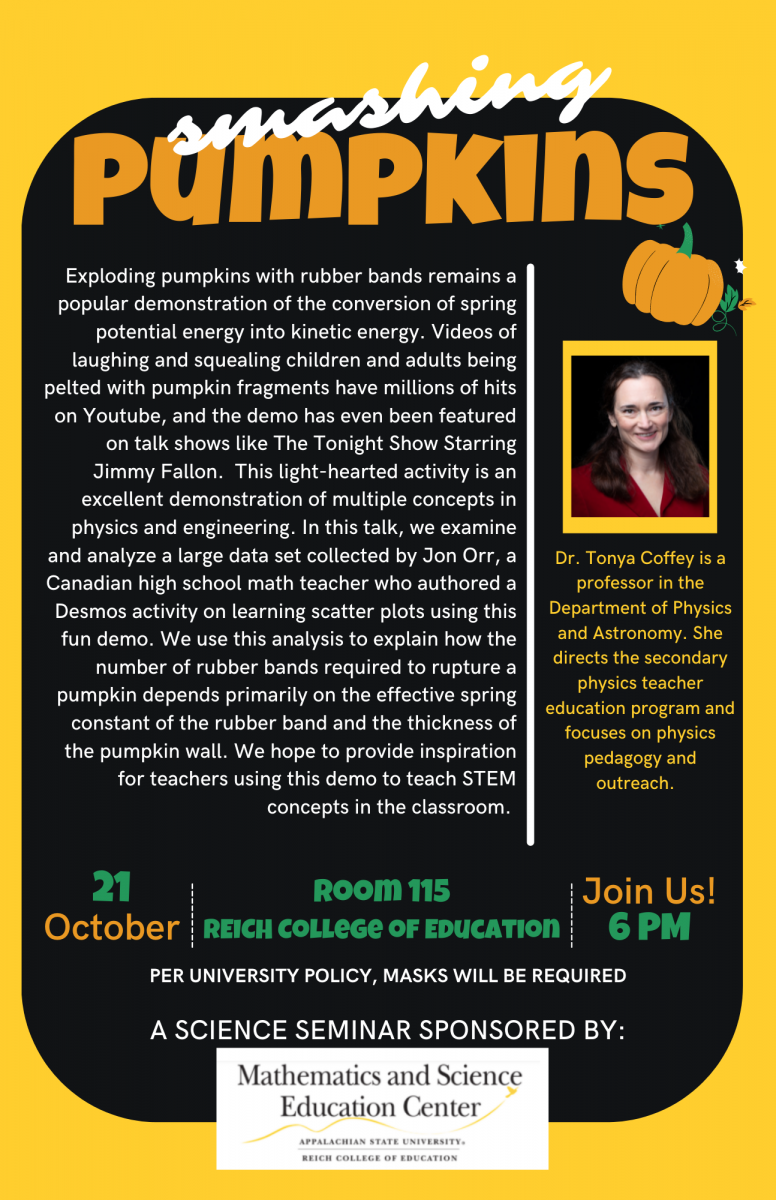 WHAT IS THE STEAM EXPO?
The annual STEAM Expo is the largest STEM outreach project of Appalachian State University. Started by Dr. Tonya Coffey in the Department of Physics and Astronomy and Tracey Tardiff, formerly of Appalachian, the STEAM Expo shares dozens of interactive events, demonstrations, and more with thousands of regional middle and high school students. Take a look at this demonstration for a sample! https://youtu.be/wJg5GwwrSX8

CHEMISTRY PROFESSIONAL DEVELOPMENT
The Mathematics and Science Education Center is excited to offer an important workshop on chemical safety for educators on April 17, facilited by internationally known chemical safety expert, Samuella Sigmann. See the flyer linked here for more information.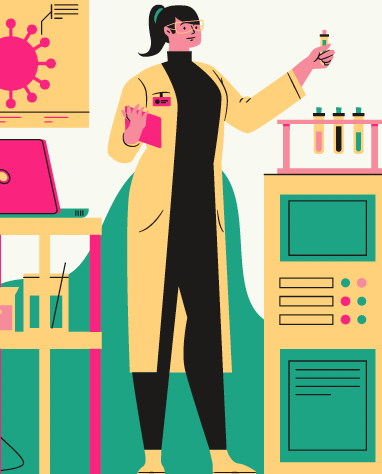 The Idea Factory in the IMC of the Belk Library has been a hub for creative teachers to make things for their classrooms, whether for bulletin boards or video creations. The Virtual Idea Factory brings that online, providing tools for teachers to design engaging content for their virtual classrooms. Visit the Virtual Idea Factory at this link for more!
IDEA-CON 2020 Conference Draws Nearly 500 Online Participants
The IDEA-CON 2020 conference kicked off July 30-31 with a collection of pre-recorded video sessions, four plenary/panel presentations, and a Facebook Group for interactions. With about 500 participants representing nearly every district in NC plus international teachers, IDEA-CON 2020 demonstrated how we can innovate our usual professional development and engagement in this time of virtual interactions. Not only did the conference allow participation by many teachers who otherwise may not have been able to travel to Boone, but the use of closed captioning created a more inclusive environment for educators . The center staff provided organizational support for this conference, including organizing the online platform for content delivery, collecting door prizes and "drawing" for them online, and working with speakers to prepare for their sessions.
IDEA-CON 2020 represents a new model for online engagement and is expected to become an annual event for the Reich College of Education. More information will be presented in the next center newsletter.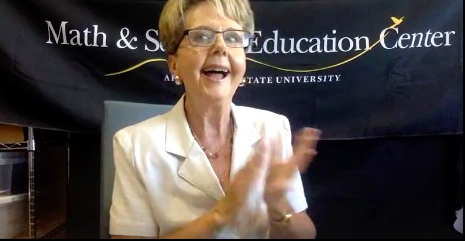 Associate Director Betty Long conducts a door prize via Facebook Live.
MSEC Names Dr. Tracie McLemore Salinas Next Director
Dr. Tracie McLemore Salinas, Professor in the Department of Mathematical Sciences and formerly Director of Teacher Education and Engagement for Appalachian's College of Arts and Sciences, has been named the Director of the Mathematics and Science Education Center. Salinas has collaborated with the center previously on projects and outreach. The announcement can be read at this link.
MSEC 2019 Science Seminar Series
View the web story here.
Don't see what you need? Make a request here!
Keep in Touch
Keep up-to-date with MSEC happenings, workshops, and seminars! Join the MSEC google group here.
Need to update your email or unsubscribe? Email mcmanusld@appstate.edu with changes.